Whitsundays Adventure Activities
The Whitsundays is great for relaxing but it's also the perfect place for adrenalin junkies to get their kicks either on land, by sea or up in the air. You can Skydive Airlie Beach which is considered one of the greatest drop zones in the world or hop on board a Tigermoth for a heart racing aerobatic flight right in front of Airlie Beach.
On the water you can explore The Whitsundays by jet ski or visit some great destinations while having the ride of your life on the super fast Ocean Rafting vessels. On land you can head west and go 4 wheel driving through some amazing country.
There's so many choices as you can see below with lots of options for the more faint hearted. There's a couple of ready-to-book adventure activities below, or you can also check out our Flying Adventures and Boat Cruises pages.
For more attractions and things to do while holidaying at the beautiful Whitsundays, our Whitsundays Directory has a great list of adventure activity providers.
Whitsundays Adventure Activities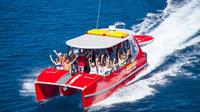 Take an exhilarating cruise in the Whitsundays on board an amazing high-speed ocean-going catamaran. The vessel is designed for stability and speed and ensures all guests have an awesome adventure in comfort and style. Included in the full-day cruise is a walk to the famous Hill Inlet Lookout, a delicious lunch and snorkelling at two different locations on the Great Barrier Reef.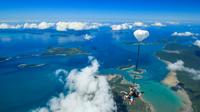 Skydive Airlie Beach tandem jump from up to 15,000ft is not to be missed during a visit to the Whitsundays. With such stunning views over Whitsunday islands and coastline it has to be one of the most spectacular locations in the world to experience the exhilarating feelings of freefall.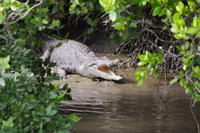 The Whitsunday Crocodile Safari is a unique nature experience, which offers you an exciting day trip into the realm of the saltwater crocodile. You'll depart Airlie Beach by complimentary bus transfers and travel by open-air tractor-drawn wagon-train through Goorganga wetlands and see the land as Captain Cook saw it. Then, you will have the opportunity to spot an estuarine (saltwater) crocodile on the calm water adventure cruise. Have your camera ready!
This tour is for the adventurous as you conquer the challenge of open water jet skiing experiencing the Whitsundays amazing offshore islands with your destination the beautiful Daydream Island Resort and Spa.