Whitsundays Adventure Activities
The Whitsundays is great for relaxing but it's also the perfect place for adrenalin junkies to get their kicks either on land, by sea or up in the air. You can Skydive Airlie Beach which is considered one of the greatest drop zones in the world or hop on board a Tigermoth for a heart racing aerobatic flight right in front of Airlie Beach.
On the water you can explore The Whitsundays by jet ski or visit some great destinations while having the ride of your life on the super fast Ocean Rafting vessels. On land you can head west and go 4 wheel driving through some amazing country.
There's so many choices as you can see below with lots of options for the more faint hearted. There's a couple of ready-to-book adventure activities below, or you can also check out our Flying Adventures and Boat Cruises pages.
For more attractions and things to do while holidaying at the beautiful Whitsundays, our Whitsundays Directory has a great list of adventure activity providers.
Whitsundays Adventure Activities
Whitsunday Crocodile Safari is a safe, all-weather nature excursion which takes guests to see crocodiles in the wild in the Whitsundays. The safari enables you to explore the estuaries and wetlands of the Whitsundays and to discover the vegetation and wildlife in these unique habitats. Your tour begins with a courtesy bus transfer from Airlie Beach to Proserpine. You will experience a calm water cruise on Proserpine River, spotting estuarine crocodiles in natural habitat, and then explore Goorganga Plains wetlands on a tractor-drawn wagon train. Your day tour includes a delicious barbecue lunch and traditional billy tea and damper, so have your camera and your appetites ready!
A true sailing experience through the Whitsunday Islands on board the rare Australian classic yacht Lady Enid. Become involved as much or as little as you like, help set the sails, take a turn at the helm or lean back and relax and enjoy the uninterrupted beauty of the Whitsunday Islands. Barefoot luxury at it's best, sailing to one of the world's best beaches, Whitehaven Beach and visiting Hill Inlet,  swimming the crystal clear waters of Betty's Beach at Whitehaven and snorkeling the Island Reefs will certainly ensure beautiful memories are made. Your crew will welcome you as their guests, not just a passenger and with only a maximum of 24 guests and up to four crew at your service, you will want for nothing more. The gourmet meals are certainly a feature of this experience, including morning tea, lunch, afternoon tea and as you'll sail back to port into the sunset while a glass of sparkling wine and antipasto is served.
Spend a full day exploring Whitehaven beach, one of the most beautiful beaches in the Whitsunday Islands. You'll enjoy a guided hike to Solway Circuit Lookout and chance Bay, and take a leisurely hike to Hill Inlet lookout where you get a famous view of Whitehaven beach! Swim away from the crowds, and have time to lounge on the beach. Your day trip includes a guide, lunch and afternoon tea with a group tour limited to 32 people.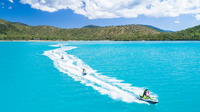 Multi award winning Whitsunday Jetski Tours offers exciting adventure tours in the Whitsundays and is the first and only guided jetski tour operating from Abell Point Marina, Airlie Beach to the Whitsunday Islands. Guests can ride the latest model Sea-Doo jetski into the beautiful world heritage Whitsunday Island Marine Park.

Four tours operate daily, the Airlie Adventure, also known as the 'Turtle Tour' with sea turtles often encountered, the Two Island Safari, exploring the waterways of South Molle and Daydream Islands, the Jetski to Paradise, a jetski adventure visiting exclusive Paradise Cove Resort and the Ultimate Island Trek, an epic jetski journey to the island oasis of Palm Bay Resort.

No license is required and no experience is necessary!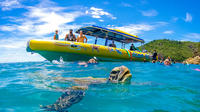 Visit three top destinations whilst having the ride of your life! Each Ocean Rafting day includes an exhilarating ride to world famous Whitehaven Beach, Hill Inlet Beach and Lookout, pristine snorkelling reefs and guided Whitsunday Island National Parks walks, all in one day! The semi rigid inflatable vessels are super fast allowing you to experience a fun ride, adventure and education amongst the natural beauty of the Whitsundays. 

Ocean Rafting offers two different Whitehaven Beach tours to choose from, the Northern Exposure and the Southern Lights tour. The significant difference between the two tours is that the Northern Exposure offers more snorkelling time and the Southern Lights offers more beach time.

Ocean Rafting is the only tour operator to have direct access to the stunning and iconic Hill Inlet beach and special snorkel sites at Hook Island and Border Island ensure a memorable underwater experience.
This tour is for the adventurous as you conquer the challenge of open water jet skiing experiencing the Whitsundays amazing offshore islands with your destination the beautiful Daydream Island Resort and Spa.