Things To Do In Airlie Beach
Airlie Beach is the gateway to the Whitsunday Islands and The Great Barrier Reef. It is set on a striking peninsular that reaches out into the stunning blue Whitsunday waters, just take a look.
The town was once only considered a departure point for sailing holidays however it became popular as a tourist destination in itself. These days there are lots of day trips out to the Whitsundays and activities to keep you busy on the mainland.
The Esplanade is the hub of Airlie Beach tourism with many resorts and hostels as well as dining spots and bars on offer. It's located on the beach and these spots offer million dollar sea views.
The waters off Airlie Beach look inviting however from November through to May the sea is full of box jellyfish. In order to provide locals and visitors somewhere to cool off the council have built the Airlie Beach Lagoon located on the foreshore. It's a great place to swim safely and laze in the sun.
Each year Airlie Beach hosts the Meredien Airlie Beach Race Week a world class yachting extravaganza. It is a week long event full of lots of activities for yachtie enthusiasts and also for those who prefer to stick to dry land. Last year's event attracted over 120 racing yachts with 1000's of crew and spectators flocking for the big race. You don't have to be a professional to set sail to enjoy the waters off Airlie Beach as there are lots of day tours on offer so you can explore the islands and reefs.
Located just out of town is some of the most beautiful National Park in Australia with walking tracks so you can explore protected coastlines, deserted beaches and lush rainforest. If you're feeling really active you can do the Whitsunday Great Walk which starts from Brandy Creek and runs to Airlie Beach which is about 30km.
Not far from town is the Proserpine River where you can take a crocodile watching tour. You'll see not only crocodiles but also wonderful local flora and fauna including migratory birds that call the Proserpine River Wetlands home.
Airlie beach has a wide range of accommodation on offer, from the simple beds of the backpackers inns, quaint Bed & Breakfasts, modern hotels and some of the most luxurious holiday resorts.
Airlie Beach is an incredibly popular place to stay due to its easy access to the Great Barrier Reef, as well as many different activities through the mainland. The Marina keeps the town a bustling hot spot of yachts and motor boats that stop in for the berth, seafood restaurants, bars, nightclubs, shops and markets.
Airlie Beach Tours & Passes
Whitsunday Crocodile Safari is a safe, all-weather nature excursion which takes guests to see crocodiles in the wild in the Whitsundays. The safari enables you to explore the estuaries and wetlands of the Whitsundays and to discover the vegetation and wildlife in these unique habitats. Your tour begins with a courtesy bus transfer from Airlie Beach to Proserpine. You will experience a calm water cruise on Proserpine River, spotting estuarine crocodiles in natural habitat, and then explore Goorganga Plains wetlands on a tractor-drawn wagon train. Your day tour includes a delicious barbecue lunch and traditional billy tea and damper, so have your camera and your appetites ready!
A true sailing experience through the Whitsunday Islands on board the rare Australian classic yacht Lady Enid. Become involved as much or as little as you like, help set the sails, take a turn at the helm or lean back and relax and enjoy the uninterrupted beauty of the Whitsunday Islands. Barefoot luxury at it's best, sailing to one of the world's best beaches, Whitehaven Beach and visiting Hill Inlet,  swimming the crystal clear waters of Betty's Beach at Whitehaven and snorkeling the Island Reefs will certainly ensure beautiful memories are made. Your crew will welcome you as their guests, not just a passenger and with only a maximum of 24 guests and up to four crew at your service, you will want for nothing more. The gourmet meals are certainly a feature of this experience, including morning tea, lunch, afternoon tea and as you'll sail back to port into the sunset while a glass of sparkling wine and antipasto is served.
Spend a full day exploring Whitehaven beach, one of the most beautiful beaches in the Whitsunday Islands. You'll enjoy a guided hike to Solway Circuit Lookout and chance Bay, and take a leisurely hike to Hill Inlet lookout where you get a famous view of Whitehaven beach! Swim away from the crowds, and have time to lounge on the beach. Your day trip includes a guide, lunch and afternoon tea with a group tour limited to 32 people.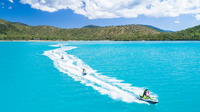 Multi award winning Whitsunday Jetski Tours offers exciting adventure tours in the Whitsundays and is the first and only guided jetski tour operating from Abell Point Marina, Airlie Beach to the Whitsunday Islands. Guests can ride the latest model Sea-Doo jetski into the beautiful world heritage Whitsunday Island Marine Park.

Four tours operate daily, the Airlie Adventure, also known as the 'Turtle Tour' with sea turtles often encountered, the Two Island Safari, exploring the waterways of South Molle and Daydream Islands, the Jetski to Paradise, a jetski adventure visiting exclusive Paradise Cove Resort and the Ultimate Island Trek, an epic jetski journey to the island oasis of Palm Bay Resort.

No license is required and no experience is necessary!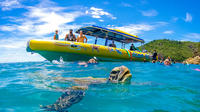 Visit three top destinations whilst having the ride of your life! Each Ocean Rafting day includes an exhilarating ride to world famous Whitehaven Beach, Hill Inlet Beach and Lookout, pristine snorkelling reefs and guided Whitsunday Island National Parks walks, all in one day! The semi rigid inflatable vessels are super fast allowing you to experience a fun ride, adventure and education amongst the natural beauty of the Whitsundays. 

Ocean Rafting offers two different Whitehaven Beach tours to choose from, the Northern Exposure and the Southern Lights tour. The significant difference between the two tours is that the Northern Exposure offers more snorkelling time and the Southern Lights offers more beach time.

Ocean Rafting is the only tour operator to have direct access to the stunning and iconic Hill Inlet beach and special snorkel sites at Hook Island and Border Island ensure a memorable underwater experience.