Whitsunday Islands Resort Accommodation
Mention the Whitsunday Islands to someone who's been there before and they'll most likely go weak at the knees - home to coral reefs (actually, the most famous coral reef in the world, the Great Barrier Reef), tropical white sand beaches, endless sunshine and crystal clear and calm waters that are perfect for snorkeling or sailing.
If this sounds like the perfect place for your next holiday, make sure you book your accommodation on the Whitsunday Islands to enjoy the full experience of this tranquil paradise.
Browse through the Whitsunday Islands accommodation providers below. Click through for more information about the resort, check availability, make your online booking and save time & money.
5 Star Whitsunday Island Accommodation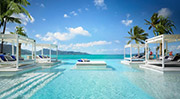 Hayman Resort, Whitsundays

Hayman presents a unique private island experience of natural beauty, tranquility and adventure, with resort living in 244 beautifully appointed rooms, suites, penthouses and a villa, situated in Pool, Palm, Lagoon and Beach Wings, all featuring private terraces or balconies.
Hamilton Island Beach Club Resort, Whitsundays

This property is sophisticated yet unpretentious, set in landscaped gardens and characterised by discreet service and uninterrupted views of the Coral Sea. It's for those wishing to truly relax and enjoy the natural beauty of the Whitsundays.
4.5 Star Whitsunday Island Accommodation
Daydream Island Resort, Whitsundays

Offering numerous accommodation styles each beautifully appointed with refreshing balcony views. Stay 3 Pay 2 and Stay 6 Pay 4 deals available in our luxurious Garden Balcony and Ocean Balcony rooms.
4 Star Whitsunday Island Accommodation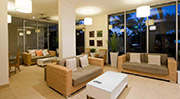 Whitsunday Holiday Apartments, Hamilton Island

The beach is located directly adjacent to the apartments and the resort centre is minutes away.
Reef View Hotel, Hamilton Island

Famous for its breathtaking views, it has the largest standard size hotel rooms in Australia.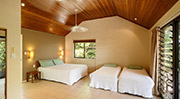 Heron Island Resort, Whitsundays

The reef experience on Heron is exclusively for guests, a unique experience few other resorts in the world can offer.
3 Star Whitsunday Island Accommodation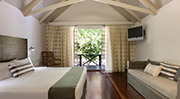 Hamilton Island Palm Bungalows Resort, Whitsundays

These freestanding bungalows offer seclusion - ideal for a romantic hideway.
Perfect for the active small family or couple travelling on a budget.